TITANIUM AUTOMATIC TOURBILLON
DESIGN STORY
We created a Tourbillon in titanium which is the best possible and most durable material for watches. We also wanted to keep it at an affordable price point. We believe we were able to achieve our goals without sacrificing design, quality, and wearability. Our desire was to create a watch that not only celebrated the craftsmanship, but also the authentic individual artistic expression of the wearer.
DETAIL HIGHLIGHTS
Movement: Self winding automatic Tourbillon movement caliber #3C40E.
Case: Grade 2 Titanium case with a hand applied Cerakote finish in the United States.
Functions: Tourbillon, date, night/day indicator, 24 hour GMT indicator.
Crystal: Double coated anti-reflective sapphire crystal.
Water Resistance: 660 Feet / 200 Meters / 20 Atmospheres
Assembly: Final watch assembly and testing by certified watchmakers in the USA.
WHY NOT SWISS MADE?
It would have been easy to stamp our watches "Swiss Made." As many Swiss manufacturers have been doing lately, we could have made the movement, case, and strap outside of Switzerland. And like some of our competitors, we could have manufactured and assembled the dials and hands with the other components in Switzerland and call it "Swiss Made." It's the dirty little secret the Swiss watch industry wants to hide. This method of manufacturing is obviously not transparent. In the words of the greatest living watchmaker, Philippe Dufour, "The "too comfortable" Swiss watch industry are no longer the clear winners of watches. [Dufour] gives considerable weight to the work done by the Germans, Japanese, and even Chinese." Like Dufour, we strongly believe talent is global and we aimed to break free from the geographic stereotypes. Other than significantly increasing the cost of the watches, we didn't see any value added to this project using the label "Swiss Made."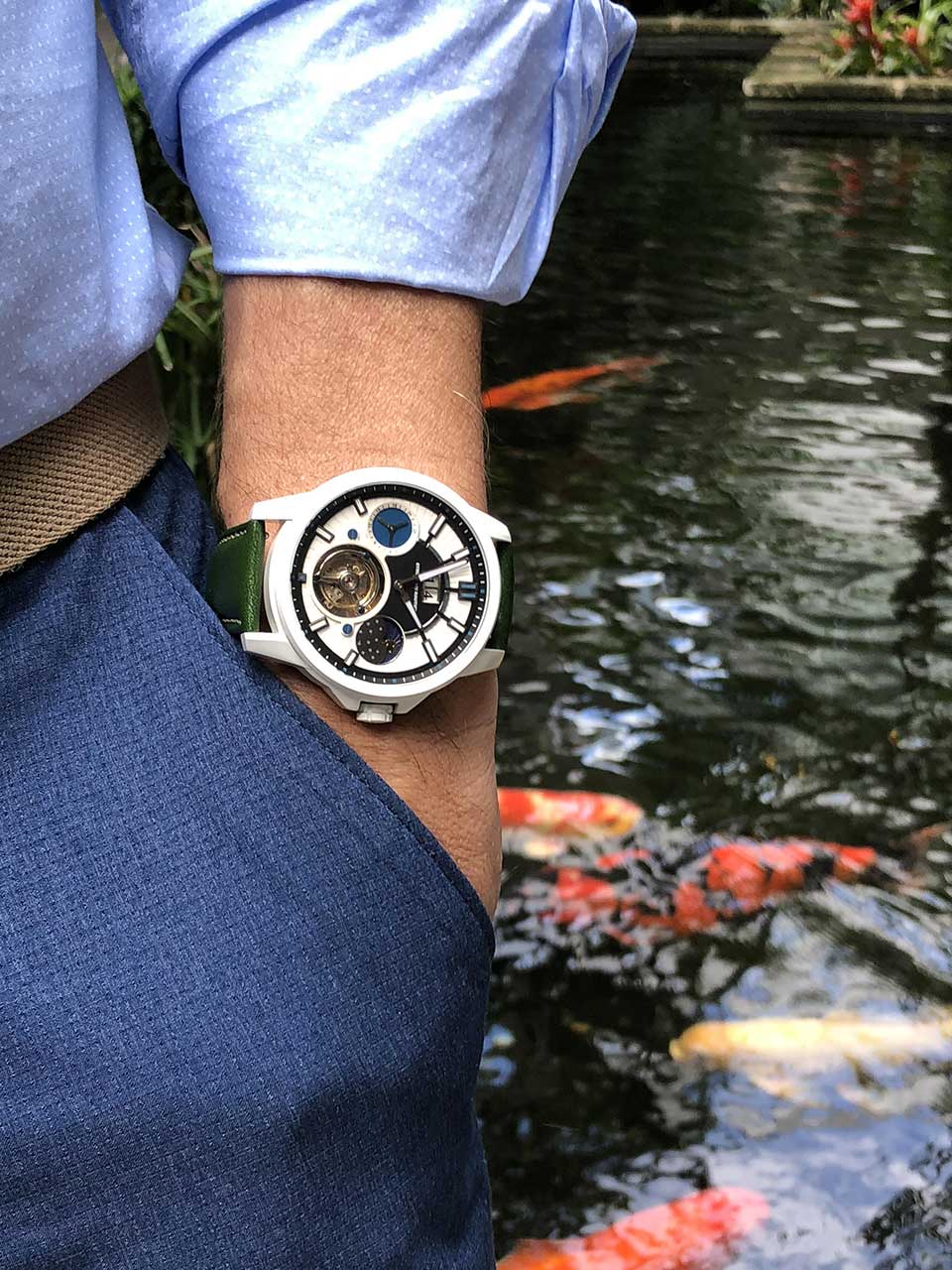 TITANIUM GRADE 2 CASE
We chose to use Titanium because it's approximately 30% stronger and approximately 40% lighter than steel. Combined with other metals to produce high performance alloys, Titanium is commonly used by the aerospace industry and military for its lightweight strength and ability to withstand extreme temperatures.
To further personalize the watch for its wearer, we're offering Cerakote ceramic coating. This hand finished process is applied individually to each case. Cerakote combines a ceramic base and a polymer to create a coating that allows us to achieve the dynamic colors on our Titanium cases. All of our Cerakoting is done in the United States. Since each case is hand applied and hand finished, no two watches will be exactly the same. Thereby making each Cerakoted Tourbillon a piece unique. This laborious process takes approximately 3 to 4 weeks to complete and will only be available in limited quantities.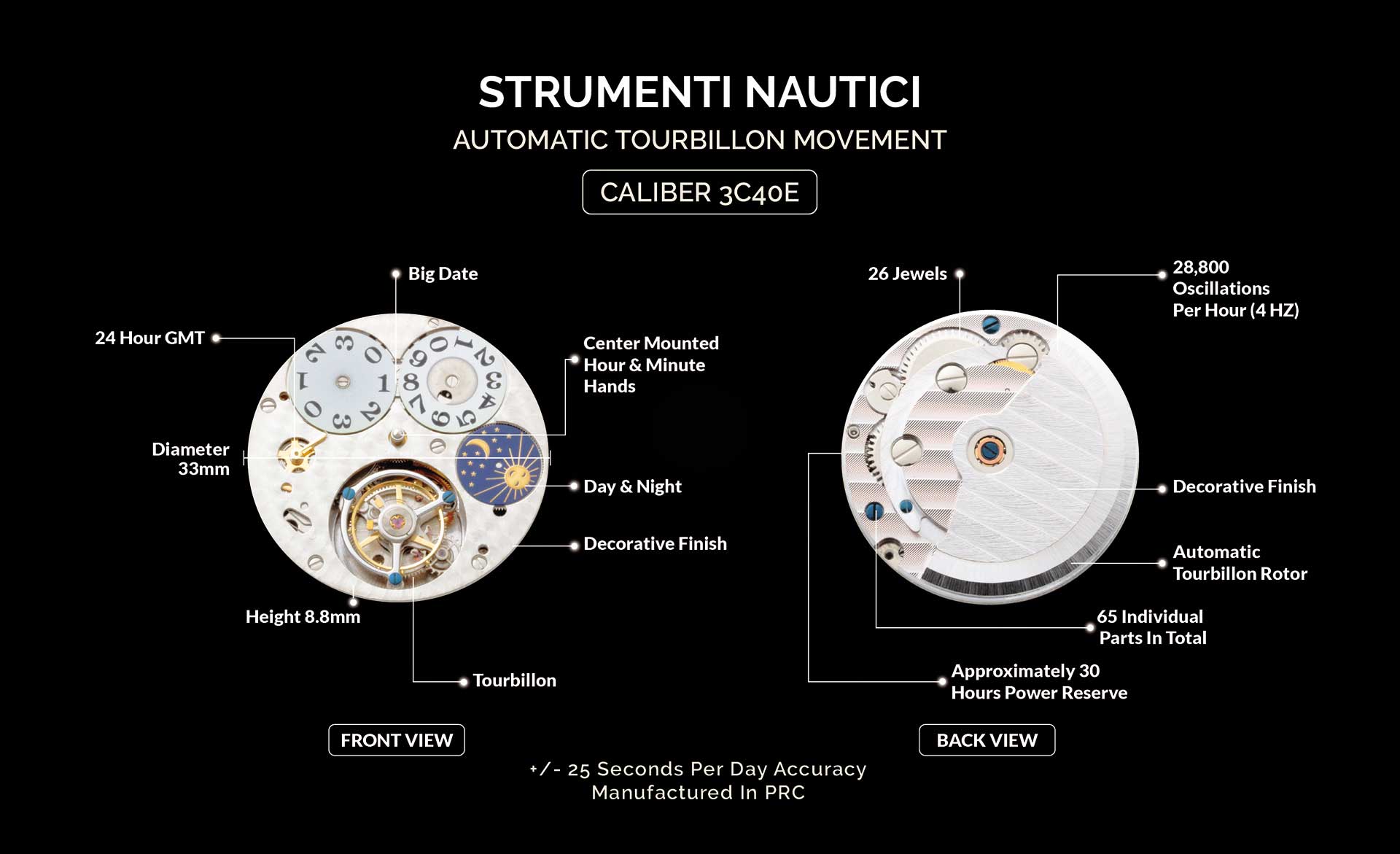 AUTOMATIC TOURBILLON CALIBER #3C40E
For several months, we tested various Tourbillon movements and found the #3C40E best suited for this project. The movement features a self-winding automatic Tourbillon with 26 jewels, big date, day/night indicator, and GMT dual time. This all in one automatic Tourbillon movement is manufactured in China which allows us to keep the price point affordable without comprising quality. The final watch assembly and testing will be done by our certified watchmakers in the United States.
WATER RESISTANCE
We designed our automatic Tourbillon cases for a water resistance up to 200 Meters / 660 Feet / 20 Atmospheres. At our price point, a majority of Tourbillons are only good from 3 to 5 ATM. Would you buy a car that you couldn't drive in the rain? No. So why buy a watch you can't wash your hands with or get caught in the rain? Our active lifestyles demand we own the watch, not allowing the watch to own us. We don't want to remove our watch in the bathroom to wash our hands or leave it at home just to go to the pool or beach. We want to put it on our wrist and go about our day.
SOME ACTIVITIES YOU CAN ENJOY
AFFORDABLE TITANIUM AUTOMATIC TOURBILLON
Since we're offering our Tourbillons directly to the end user, we're bypassing all the middlemen and all extra associated expenses. In the majority of the watch industry, the watch only reflects 20% of the final price. In our case, since we're eliminating all extra expenses such as marketing, advertising, distributors, dealers, celebrity spokespeople, etc, the savings are passed onto you. If we had a normal price structure, our Tourbillon would have to be priced at $7,999.00 to justify all of the add ons. Instead, we chose to craft a 200M Titanium Automatic Tourbillon with big date, AM/PM, GMT and offer it at an affordable price point of $1,499.00 for early backers. The availability will be limited and the price will increase as the project progresses.